Submitted by

Local History a...

on March 24, 2016 - 11:15am
On September 27, 1888 the Champaign Fire Company sent representatives to a hose race in Lincoln, IL.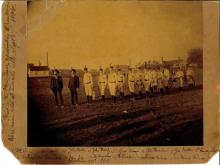 The Champaign County Herald (October 3, 1888) described the news item as thus: "The Champaign fire company attended the Lincoln tournament last Thursday, and carried off the second prize in the principle race. The Effinghams took first with a record of 40 seconds and beat our boys only one second. Quite a number of people from here were present. The boys returned Saturday, and were escorted up and down Main street by the ninth regiment band, after which they had a photo taken. Their uniforms are quite neat and attractive in appearance."