Submitted by

Local History a...

on March 16, 2015 - 3:18pm
The Champaign County Historical Archives recently published a new digital collection, Champaign County Homes, 1838-1920, which contains photographs of homes that were constructed during the 1838-1920 time period. Whether your house was constructed during this time period or later, the Archives has many helpful resources to get you started researching the history of a property.
                                     (Scroll mouse over pictures to see captions)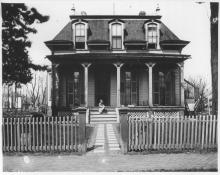 Read more

about Ever wonder about the history of your home?