Submitted by

Local History a...

on November 12, 2018 - 4:10pm
Home to the former Chanute Air Force Base for 76 years, Champaign County has a long history of wartime participation and civilian support.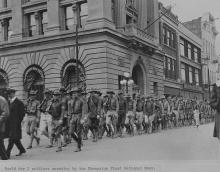 This Veterans Day, The Urbana Free Library would like to make its patrons aware of the Illinois Veterans' History Project. The project in conjunction with the Library of Congress Veterans History Project, creates a permanent record of the names and stories of Illinois war veterans and civilians who served during wartime. Read more about Every veteran has a story. Make sure yours is heard.