Submitted by

Local History a...

on March 18, 2015 - 6:07pm
The Town and Gown Speaker Series is sponsored by the Student Life and Culture Archives at the University of the Illinois and the Champaign County Historical Archives. Each event in the series  highlights a topic of historical significance to the campus and the community.
Join us throughout the year as we share stories of Champaign County. Our next event is: 
Date: Thursday, April 16, 2015 at 7:00 pm
Location: University YMCA, 1001 S. Wright St., Champaign, IL 61820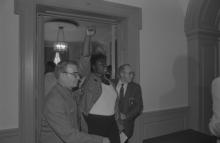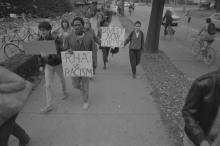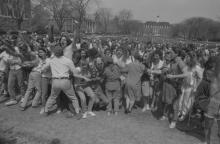 At the University of Illinois, and at campuses across the country, protesters called for an end to investments in companies with ties to South Africa. The Divest Now Coalition and the Champaign-Urbana Coalition Against Apartheid organized protests and boycotts in the late 1970s and throughout the 1980s, eventually forcing the University to divest funds. Join a panel of former students and administrators involved in the movement for a discussion of the protests and student activism.
Panel Members:
Lisa Dixon and Jeff Machota, student leaders of the divestment movement; 
Rhonda Kirts, student body president during the divestment movement; 
Lex Tate, former reporter for The News-Gazette and Associate Director of University Office of Public Affairs;
Bryan Savage, legal counsel for the divestment movement
Moderator: Jack Brighton, Director of New Media and Innovation, Illinois Public Media.
Interested in learning more before the event? Click HERE to view the Champaign County Historical Archives  Flickr page! You can see photographs taken during the Divestment protests and many more digital collections on Champaign County history. 
Read more

about Town and Gown Speakers Series Presents: Divest Now! Student and Community Divestment Protests in the 1980s