Submitted by

Local History a...

on May 19, 2015 - 4:22pm
The open air school movement was based on the concept that fresh air, good ventilation and exposure to the outside contributed to good health. Originating in Europe, the model was quickly adopted by the United States as a way to provide care and education for children who were anemic, malnourished, or who had been exposed to tuberculosis. The first open air school in the United States was located in Providence, Rhode Island (1908).
While in Europe the schools were usually conducted in forests or rural compounds, the open air schools in the United States were often placed in unused school buildings, ferryboats, roofs, porches, or tents [1]. The first open air school in Chicago was conducted by the Chicago Tuberculosis Institute in cooperation with the school board during the summer of 1909. It was so successful that a year-round school was opened on the roof of the Mary Crane Nursery located in Chicago's city center [2]. In addition to the benefits of fresh air, hygiene and nutrition were also emphasized. Students were fed a morning snack, a hot dinner, and a glass of milk if possible [3].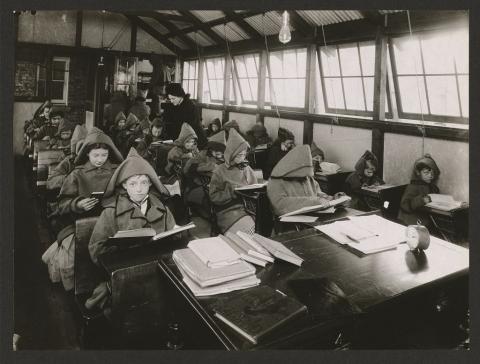 Open Air School #1 and #2 - On roof of Mary Crane Nursery, Courtesy of The Library of Congress