Submitted by

Children's Services

on December 14, 2016 - 4:07pm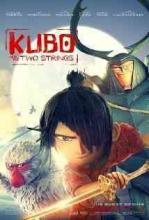 The voice talents of the young Art Parkinson, along with Charlize Theron, Matthew McConaughey, George Takei, Ralph Fiennes, and Rooney Mara, have combined with the animation studio that created Coraline. The result:  Kubo and the Two Strings. And it is EPIC! In both the literal and colloquial senses.
Kubo is a young boy in Japan, the son of a samurai warrior and a mother with magical powers. His maternal grandfather, the cold and powerful Moon King, killed his father and stole one of Kubo's eyes when he was a baby. His mother was able to escape with Kubo to a remote island in Japan. And Kubo has only been safe as long as he stays indoors when the moon is out.
By day, he takes his mother's magical shamisen, a three-stringed musical instrument, to play in the village square, where his origami comes to life in order to act out the stories that he tells. His favorite story is the story of his father in his quest to find three pieces of magical armor that would help him defeat the Moon King. Only, Kubo doesn't know exactly how that story ended. His mother was injured when she escaped, and her mind is not what it used to be.
One day during the Obon festival, when Kubo was trying to communicate with his father's spirit, he stayed out after dark. By the light of the moon, his grandfather and his aunts were able to find him. Kubo's mother uses the last of her magic to bring his monkey charm to life, who will help him finish his father's quest for the magical armor.
This film is beautiful and touching and funny and so much more! Some images and themes may be a bit advanced for very young viewers (the giant, scary skeleton guarding the magical sword and dealing with the loss of a parent, for instance), but if your child can handle the imagery of Coraline or Brave (Kubo is much more similar to Brave than Coraline), then your little viewer will LOVE this movie! You'll probably love it, too.
ep